Lead Generation & Tactics – Back to "Sales School"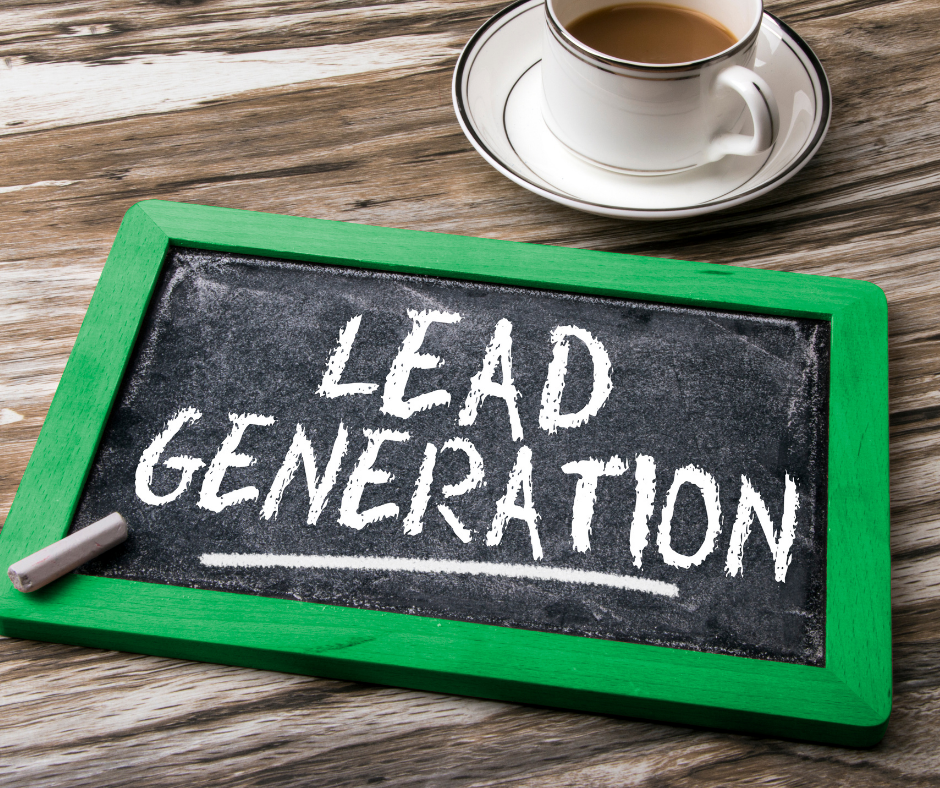 We introduced this blog as a sales library. It's purpose is to provide you with resources to turn to in order to learn more about and make use of proven sales and marketing methods that help you grow sales.

Because of the time of year we've planned the "Back to Sales School" series. We will be posting these first six "books" in the upcoming weeks. Each one will offer useful information covering a range of topics at the core of being effective in growing sales.
Here's the upcoming titles that you can look forward to:
Lead Generation Strategy and Tactics
Effective Sales Management
Integration and use of the funnel / pipeline pathway. Tracking leads from cold call to close.
Social media / automated marketing – metrics vs "money" (Do metrics pay the bills?) Integrating the "human connection".
Use of targeted sales / marketing to maximize sales and use of your sales budget.
Evaluation of "other" marketing tactics

So, let's put our first reference "book" on the back to sales school library shelf…
Lead Generation Strategies & Tactics

The most effective lead generation efforts are managed and directed as part of a strategic plan. Synergies are achieved when the tactics you choose are put into an overall strategy so that messaging, timing, etc. achieve maximum results. There is no one size fits all strategy and yours will be unique for you. What we will do here is offer various sales tactics and a brief discussion of them. We can't tell you which ones are best for you because we don't know your circumstances, but we do want to offer these
tactics for your consideration. The ones we list here are ones that we feel fall into sales tactics rather than marketing tactics. Our criteria for calling them sales tactics is that some form of pro-active human interaction should occur to make the tactic most effective. It's a subjective call on our part and that is why a future "book" treats the "other marketing tactics". (Our opinion: sales and marketing should be viewed as separate entities, but the tactics should work "hand-in-glove" – separate but together to achieve synergistic results). Here is the list for you to consider:
Outside sales (captive). This is your in-the-field sales representatives that you manage, direct, train, pay, etc. They provide human face-to-face contact with prospects and customers. These folks provide the visibility and exposure to prospects / customers facilities and circumstances that is best accomplished by an on-site presence. Outside sales people are the "face" of your company.
Outside Sales (independent representative). These persons perform the same function as captive sales reps, but the controls and accountabilities are modified due to the "independent" status. Pros and cons of this role apply.
Inside sales (in-house or outsourced). A myriad of functions can be assigned to these people. Liaison to outside sales (if applicable), sales appointment setting, sending and follow-up to emails or direct mail, prospect research, handling customer inquiries, managing / fulfilling social
media posts, gathering market data for CRM / database development and so on.
Telemarketing. Differentiated from inside sales, this is more narrowly focused to, generally speaking, short term call projects and/or appointment setting. Less relationship building and more of what you might view as "call center" activities.
Social media – YouTube, LinkedIn, Instagram, Twitter, etc. Some platforms are better suited B2B or B2C. We view it as both a sales and marketing tactic. We include it here because in many cases human interface/ judgment and fulfillment are required. (Does the inquiry require an automated reply or a human follow-up due to the nature of the request?).
Direct mail / email. Self-explanatory but we do include it in "other marketing" since sometimes the mailing is generic vs targeted (more on how to target in our 5th book/blog).
CRM. This is a "tool" but it can be very powerful when "human thinking" and proper sales management are applied.
Word of mouth referral. Lots of missed opportunities on this "personalized" tactic. When utilized with social media and some of the "other marketing tactics" this can be a powerful source of new sales. This is one that isn't used like it ought to be.
Trade shows. Lots of so called marketing dollars are spent here but obviously human interface /sales occur. We will talk more about this tactic in the future when we discuss maximizing sales /marketing budgets.

There are lots of pro's and con's that can be applied to each of these tactics. As you objectively evaluate or re-evaluate your tactics, we suggest the use of a single sales technique, the "Ben Franklin", as a way to help choose the best for you: simply list your criteria for the evaluation and then apply your criteria to each tactic and write down your pro's and con's for each. Perhaps you get a fresh perspective or even a paradigm shift? Maybe it leads you to explore a tactic you haven't utilized or makes sense to explore further. Our current business climate demands a fresh look at not just the new but the untried.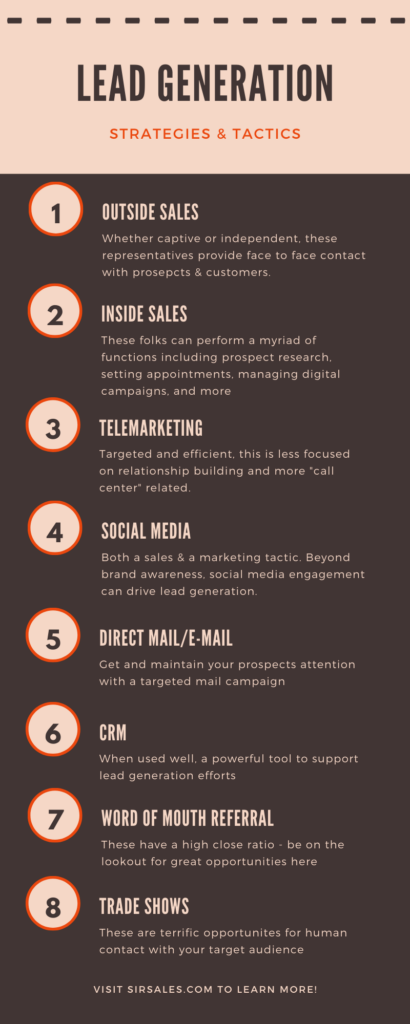 Which lead generation strategies have you tried? Which tactic would you like to explore? We welcome a conversation with you. If you'd like to learn more, contact us at 717-852-8068 or via e-mail sirinfo@sirsales.com.